News
|
Arvato opens new logistics center in Spain
142,000 square meters for fashion logistics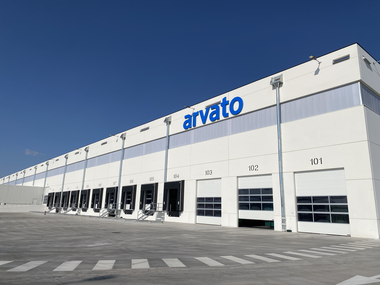 Arvato is continuing to expand its business in Spain and has opened the first two units of a new logistics center totaling around 142,000 square meters in Illescas in the province of Toledo, around 40 kilometers south of Madrid. There, the internationally active supply chain and e-commerce service provider currently handles all logistics and fulfillment for the online business from the fashion industry on around 90,000 square meters of warehouse space.
"The new site in Illescas is one of the largest in Arvato's entire global network and a confirmation of our growth path, in which we are focusing on e-commerce businesses and on customers from industries such as fashion, lifestyle, beauty or luxury," says Emilio Juaranz, Managing Director of Arvato in Spain. After handover of the third and final hall section, which is scheduled for completion in the near future, Arvato in Illescas will then have around 135,000 square meters of hall space and 7,000 square meters of office space.
The modern distribution center in the "Los Pradillos II" industrial zone was developed by one of the leading developers and asset managers of logistics real estate in Spain. It has 123 dock levelers for the storage and retrieval of goods and two main entrances for employees. The property, which covers a total of around 240,000 square meters, also has parking spaces for 1,300 cars and six trucks. With its location in the Madrid metropolitan area, access to the A-42 freeway linking Madrid with Toledo, and proximity to other important traffic junctions, the site meets all the requirements for the rapid distribution of orders demanded in online retailing.
"By operating the logistics center, we are creating around 1,500 new jobs," says Emilio Juaranz, emphasizing the importance of the site for the region. "Currently, we are still looking for additional employees." The logistics tasks for the international fashion brand focus on handling online business in both the B2C and B2B sectors. "With our omnichannel solution, we were able to convince with our customer centric approach, our service levels provided and our worldwide network of warehouse locations," says Emilio Juaranz. In Illescas Arvato primarily stores, picks and distributes fashion items, shoes and accessories. Value-added services such as personalization through embroidery and printing are also provided.
In addition to Illescas, Arvato operates two other locations on the Iberian peninsula in Alcalá-de-Henares. Emilio Juaranz: "The growth we have achieved in Spain in recent years has been remarkable – and with a project on the scope of the Illescas distribution center, we are underlining our position as a competent and reliable partner in this market."