We love Technology
Intelligent warehousing and operational excellence through innovative cloud technologies
Efficient, transparent and resilient warehouse processes are a decisive factor for your business success in today's fast-moving market environment. We rely on innovative cloud technologies and state-of-the-art systems to optimize your supply chain.
Cloud-ONLY strategy as the basis for global collaboration and operational excellence
We collaborate globally on a protected, state-of-the-art and future-proof platform that forms the basis for new technologies, processes and products. In doing so, we rely on a cloud-ONLY strategy. Our cloud infrastructure meets the highest security standards and guarantees our clients complete transparency along the entire supply chain. The scalability of our cloud infrastructure supports your growth objectives and strengthens the collaboration of our global teams.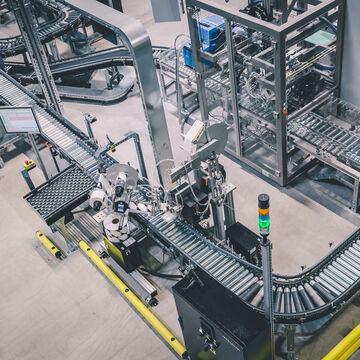 SAP ON AZURE – THE RIGHT DECISION FOR A GROWING BUSINESS
With our SAP on Azure migration we established a future-proof IT infrastructure that enables us to manage our clients' operations across countries and optimize their supply chain on a global scale. Discover our latest success story featuring our successful SAP on Azure migration project with our partner Microsoft.
Optimized supply chain - with state-of-the-art digital solutions
Ever-increasing end customer expectations, a dynamic market environment, and external influencing factors repeatedly pose a wide variety of challenges to supply chains. Customer-centric, sustainable, data-driven and scalable supply chains are the key success factors for a growing business. Our IT experts develop solutions that minimize downtime, reduce costs, promote sustainability and build resilience. Together we shape the future of your logistics.