News
|
Help for Ukraine
Arvato supports "#BringBackTheKids" awareness campaign to help deported Ukrainian children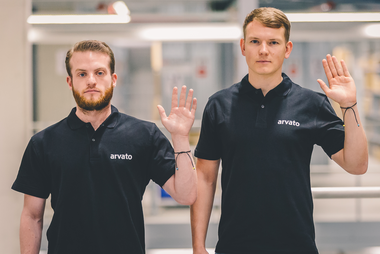 According to the National Information Office of Ukraine, nearly 20,000 Ukrainian children have been deported to Russia since the start of the Russian war of aggression. In order to make these crimes visible and to be able to bring the children back to their homeland, the German aid organization #WeAreAllUkrainians, which Dr. Wladimir Klitschko and Tatjana Kiel founded in the first days of the war, has launched the awareness campaign "#BringBackTheKids" together with the communications agency vow to the new.
Starting on September 20, 2023, the website www.weareallukrainians.de/en/bringbackthekids/ will educate people about aid options and donation opportunities to bring more children back.
For donations of 30 euros or more, donors will receive a special bracelet as a thank-you gift. Arvato supports the campaign by providing the complete fulfillment of the bracelets free of charge.
"We find it intolerable that children are being instrumentalized and torn from their families in the war against Ukraine," says Frank Schirrmeister, CEO of Arvato. "That's why it's a matter of course for us to support this campaign by doing what we do best. We are therefore handling the picking of the wristbands, packaging and shipping for the fundraiser."
Another important means of raising awareness is the book "Stolen Lives - The Abducted Children of Ukraine" by Dr. Wladimir Klitschko and his longtime business partner Tatjana Kiel, CEO of Klitschko Ventures, which will also be published on Sept. 20, World Children's Day. There, children who were rescued and their families have their say and tell what happened to them. Klitschko and Kiel also introduce the brave people who search for stolen children and bring them back home.