News
|
BAT Germany has selected Arvato as e-commerce logistics provider
BAT Germany, the German subsidiary of the British BAT, a multi-category consumer goods business, relies on Arvato as its logistics and fulfillment partner for the e-commerce operations encompassing e-cigarettes and heating products.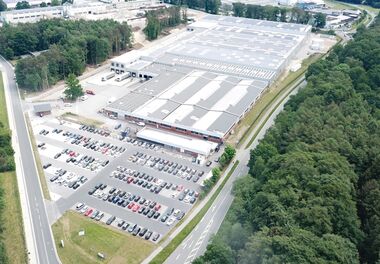 Since the end of June, BAT Germany online orders have been processed centrally from the site in Marienfeld, Gütersloh district. At this site, Arvato, a leading supply chain and e-commerce service provider, operates a state-of-the-art distribution center spanning approximately 32,000 square meters, serving multiple clients in the technology sector. The comprehensive logistics services provided for BAT Germany at this facility encompass goods receipt, storage, order picking, packing, and shipping, as well as returns management.

"BAT's goal in awarding the e-commerce logistics contract was to guarantee the most efficient and fastest delivery service for its customers. Our customer-centric approach allowed us to accommodate BAT's specific processes and requirements," says Thomas Becker, Executive Vice President at Arvato. "With its experienced team, Arvato provided us with very flexible and reliable support in setting up our logistics and distribution concept," confirms Robert Juhnke, Distribution Manager at BAT Germany. "Even throughout the offer and final negotiation phase, the collaboration has been exceptionally cooperative."

Heating products (which can be used with tobacco consumables and tobacco-free nicotine-containing herbal sticks) and e-cigarettes are stored, picked and distributed from Marienfeld. The logistics service provider commits to delivering within a 48-hour timeframe. To optimize warehouse operations for efficiency and speed, Arvato heavily integrates automation technology. For instance, automated carton setup and closure processes significantly enhance the speed of operation. Moreover, product information is automatically included with orders through flyer dispensers.

Sustainability is of utmost importance across all operations. Within Arvato's global network, where each site now operates on green electricity, Marienfeld continues to set the standard. The logistics center's heat and energy supply are sustainable and emissions-neutral. An on-roof photovoltaic system annually generates nearly 2.3 million kWh of electricity from solar energy, while an innovative geothermal floor heating system, powered by three heat pumps, delivers a thermal output of 256 kW. The commitment to sustainability is also evident in lighting upgrades, resulting in a reduction of energy consumption by 33,000 kWh per year through the use of LED lamps outdoors and T5 fluorescent tubes indoors.

Furthermore, Arvato's approach to optimizing shipment sizing and processing minimizes the consumption of packaging materials. In an effort to reduce plastic waste, the company adopted wet adhesive tape made from recycled paper, resulting in the annual saving of approximately 16 tons of plastic, as an alternative to polypropylene adhesive tape.

The on-time and successful launch of the B2C business is also an opportunity for both partners to explore further avenues for collaboration. "The transformation of BAT's business is a process to which we are happy to contribute with our services and customer-oriented approach," says Bastian Fricke, Director Account Management at Arvato, "Capacities in Marienfeld are also still available."

About BAT:
BAT is a leading, multi-category consumer goods business with a purpose to build A Better Tomorrow™ by reducing the health impact of its business through offering a greater choice of enjoyable and less risky products for adult consumers.

BAT's ambition is to have 50 million consumers of its non-combustible products by 2030 and to generate £5billion of New Categories revenue by 2024. BAT has set stretching ESG targets including achieving carbon neutrality for Scopes 1 & 2 by 2030 and eliminating unnecessary single-use plastic and making all plastic packaging reusable, recyclable or compostable by 2025.

BAT employs over 50,000 people. The BAT Group generated revenue of £27.65 billion in 2022 and profit from operations of £10.5 billion.

For more information, please visit www.bat.de.