News
|
Expansion of distribution center for GUESS in Poland
After only one year of cooperation, Arvato and GUESS have expanded the warehouse at CLIP Group's logistics park in Jasin near Poznań from 20,000 m² to 32,000 m².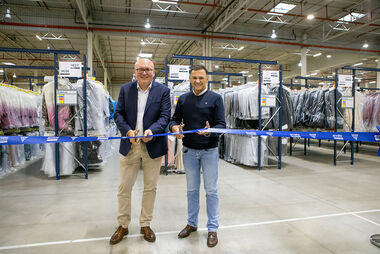 The growth of the operational area marks a significant milestone in the successful cooperation with the global lifestyle brand.
The expansion project was fully complete within 3 months and increased storage capacity significantly from 960,000 to 1.6 million fashion articles. The additional space was used to create a larger returns processing area and more storage for hanging and flat garments, and then adapted to accommodate increased shipping volumes. "The expansion was necessary due to the increase in shipping volumes caused by the dynamic development of the GUESS brand in North-Eastern Europe. Cooperating with a partner such as Arvato helps us implement further development plans in this region," says Marcello De Melgazzi, European Logistics Senior Director at GUESS.
Through the use of additional pack stations and application of the "travelling salesman problem" (TSP) - an algorithmic problem tasked with finding the shortest route between a set of points - the warehouse is now ideally set to optimize product storage and packaging. Thanks to these improvements, turnover capacity for the entire logistics center increased significantly.
"I would like to thank GUESS for the trust. Having just started our cooperation in 2021, we are thrilled to already be opening a new part of the warehouse and enlarging the space by more than 50 percent. This proves that the e-commerce channel development, investments in Poland, and choosing a cooperation with Arvato, were the right decisions," said Lidia Ratajczak-Kluck, Managing Director of Arvato in Poland.
As part of the services Arvato provides in Jasin near Poznań, fulfillment is performed for GUESS including warehousing, picking and packing of orders, returns management, and Value Added Services.