News
|
Modernization of VVA high-bay warehouse in Gütersloh
VVA (Vereinigte Verlagsauslieferung) is once again investing several million euros in the Gütersloh site.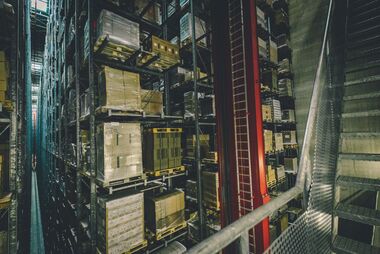 After more than forty years of continuous operation and a total of around 50 million journeys, all 14 storage and retrieval machines in the high-bay warehouse in Gütersloh are being replaced due to material fatigue.
The large-scale project at the Gütersloh site starts this weekend and will extend into next year. The fully automatic "steel towers" inside the 60,000 pallet warehouse, each 34 meters high and weighing 16 tons, are first dismantled and then removed through the open roof of the high-bay warehouse with the help of a heavy-duty crane with a lifting capacity of up to 700 tons. The new devices are brought component by component through the roof into the warehouse, where the assembly takes place. "Although the maximum possible system length of the huge special crane of 150 meters is not required, a lifting height of 70 meters should be achieved," estimates VVA delivery manager Harald Horstmann. An additional auxiliary crane with a lifting capacity of 30 tonnes is also required for the replacement.

During the modernization work, the warehouse will continue to operate in multiple shifts, with "only" 45,000 pallets in the high-bay warehouse being accessible at a time. A total of 200,000 pallets are stored at VVA in the Gütersloh district alone, mainly with books and toys, which are delivered from there all over the world. In 2022, VVA built a new 30,000 pallet warehouse at the Gütersloh site. In recent years, VVA has also been able to grow significantly, contrary to the downward trend in the industry.

VVA Managing Director Stephan Schierke sees VVA as the market leader in the industry and adds: "Our considerable investments in automation and in the expansion of capacities are paying off. We are not only the largest market participant, but we are also regarded as a quality leader."

The high-bay warehouse is the landmark of the VVA and was the largest fully automated warehouse in the world when it was commissioned in the seventies. Arvato's willingness to innovate was already evident in detail back then: For more than four decades, every lowering movement of the storage and retrieval machines has been used to generate electricity and feed it into the company grid. The process, known as "recuperation", is now mainly known for electric cars, which recover electricity during braking and feed it into the battery.