News
|
B2B business for Rituals Cosmetics
We are further expanding our collaboration with Rituals Cosmetics and take over the logistics for the store business in Germany.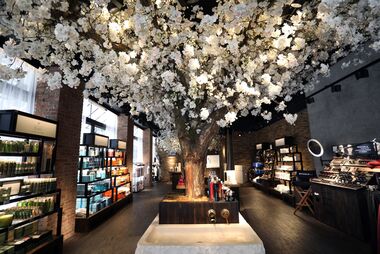 The Rituals stores will be supplied centrally from the site in Düren, which has a total of 110,000 square meters of logistics space.
"Rituals and Arvato have already been working together successfully for many years. Our partner Arvato handles the logistics for the e-commerce business in numerous countries," says Mark Hoppenbrouwers, Director Supply Chain at Rituals Cosmetics. "We are pleased that we have now been able to extend this cooperation to our B2B business for the first time." Services include warehousing, picking and distribution of products throughout Germany, the company's most important market in Europe. The Rituals stores and the shop-in-shops in the stores of the retail companies Douglas, Breuninger and Galeria Karstadt Kaufhof are supplied from Düren.

"In Düren, we use a complete hall module with around 11,000 square meters of space for Rituals' B2B business," says Jan van Meerbeck, Vice President Consumer Products at Arvato. An entire hall was adapted to the requirements of the new operations. For example, wide-aisle shelving was installed, and a cage storage area was set up for aerosol-containing products such as deodorants. The goods stored and picked in Düren cover the entire range of products offered by Rituals, with more than 2,000 different items. "Annually, we are planning with 3.75 million full cartons of ordered products, which we deliver to the Rituals stores individually or as full and partial pallets," explains Jan van Meerbeck. While the stores are supplied with goods three times a week during normal business hours, the frequency increases to five times a week during peak times.

The logistics centre, located between Cologne and Aachen directly on the A4 freeway, not only has very good transport links, but also reserve capacity for the Rituals business. "We have deliberately planned with room for further growth and can integrate additional volumes, if necessary," says Jan van Meerbeck. "We have already proven this with the e-commerce business for Rituals, where we started the collaboration in 2014 with two packing tables in Venray, the Netherlands, and now handle online orders in Benelux, France, the D-A-CH region, Spain, Portugal, Italy, the UK, Poland, and other Eastern European countries, as well as the U.S. and Hong Kong, from several locations in our global network."