Inventory Management at the Point of Care
Intelligent Solutions at the Point of Care
By offering STOK's tailored services for medical equipment and pharmaceutical companies, Arvato is providing efficient logistics and inventory management solutions in and en route to hospitals. These services create transparency regarding stock levels, product usage and product availability, while also saving manufacturers time and money. In this way, Arvato also reduces the workload of external sales forces and hospital staff so that they have more time for their core tasks.
With its many years of experience in the healthcare market, especially in the area of supplying clinics with medical products, our team is the ideal partner for effective logistics and transparent inventory management processes – throughout Europe. STOK employees perform regular inventory inspections and reporting tasks, which means that hospital staff have more time for what matters most – patient wellbeing. Improvements in product availability also strengthen the partnership between hospitals and medical technology manufacturers.
At a glance
The leading European service system for the inventory management of high-value healthcare products at hospitals
Guarantees constant product availability while also optimising process costs
Specialists in high-value medical and pharmaceutical products – all of the statutory requirements are fulfilled
Partnerships with leading medical technology manufacturers
Our team of specialists has unrivalled expertise in the field of medical devices and is familiar with the specific demands of the cardiology and orthopaedics industries, for example. It also knows each hospital's individual requirements and preferences – throughout Europe
Inventory Management
Routine physical inventory checks (e.g. monthly or quarterly) to provide unprecedented transparency on consignment inventory in hospitals
Vendor Managed Inventory (VMI) service to help nurses and sales to fully focus on their core tasks
Proactive monitoring and management of expiry dates of items in the field to mitigate quality risks
Varying degrees of investigation of inventory discrepancies to relieve sales and customer services
Support inventory replenishment, obtaining POs and invoicing
Implant Kits
Management of implant kits in our own local warehouses (Forward Stocking Locations) with full coverage of order-to-invoice cycle
Transport management and transportation of implant kits with own dedicated fleet directly into hospital wards
Implant kit swap service for high volume hospitals that don't have consignment
Urgent & courier deliveries with 24/7 service
Value Added Service
Programmer- / software updates for capital equipment in hospitals and doctor's practices
Equipment checks, e.g. for NWPT pumps (usage logging, updating, movements) or thermometers (calibrations, swaps, replacements)
Bio bins
Returns
Equipment moves
We bridge the gap between central warehouse and local availability
STOK partners with numerous medical technology manufacturers and its solutions are based on a client-specific, modular service concept. The solutions range from stocktaking on the ward and site-specific usage analyses and recommendations regarding the optimum stock level, right through to comprehensive inventory management solutions – our Vendor Managed Inventory (VMI) service. In addition to recording and replenishing stocks, the VMI service also includes the reordering, management and redistribution of products that are close to their expiry date. To this end, our STOK employees pay regular, comprehensive visits to hospitals throughout Europe.
In addition to our portfolio of services, which includes Cycle Counting, Inventory Management and VMI, our implant kits also help manufacturers to significantly reduce stock levels at their consignment warehouses. STOK creates kits by collating all products and consumables needed for an implantation. The kits are delivered to the ward at the hospital as required for the operation, after which they are collected again. STOK has its own fleet of vehicles, which we use to provide prompt deliveries directly to the hospital wards – in emergencies these deliveries arrive within just a few hours. Afterwards, STOK employees check to see which products were used so that the hospital is only invoiced for the articles actually used.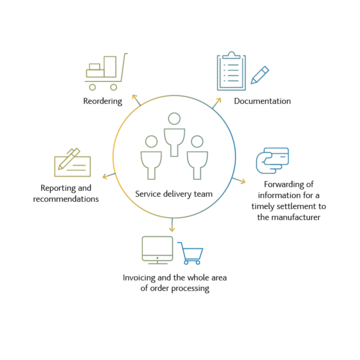 Having a designated contact person reduces complexity
Behind the scenes, the customer service team takes care of all of the administrative tasks associated with STOK's services. These include documentation, the accurate and timely settlement with manufacturers, invoicing and the whole area of order processing. We support every client with our comprehensive reporting system and we actively make recommendations regarding stock levels and the frequency of deliveries. In addition to this, each hospital has one of our STOK employees as a permanent point of contact. This employee records stock levels, restocks and collects products.
The Advantages for Manufacturers
Avoidance of costs
Trough continuous inventory management we prevent product expiry and destruction
Increased sales
Due to higher levels of product availability while keeping stock levels low, we support in increasing sales
Increase in transparency
With continuous reporting, we measure data and enable high transparency
Potential cost-saving
The potential to minimize costs for delivery and transport by consolidating shipments
Relieving workload
We relieve the manufacturer's employees by taking over stocking in the hospital
Higher customer satisfaction and loyalty
We increase customer satisfaction and loyalty
Reduction in inventory discrepancies
We reduce inventory discrepancies by using modern inventory solutions
The Advantages for Hospitals
Avoiding stock-out situations
By using an optimized inventory management system and transparent flows of information
Relieving hospital staff
We relive hospital staff in administrative and logistics-related tasks so that they have more time for patients
One main, cross-manufacturer contact person
Our service team is the contact point for for hospital staff and all wards and storage areas
Optimized stock levels for implant kits
Through the tailored configuration, delivery and collection, we optimize the stock in the hospitals
Standardized processes and reduced number of interfaces
With our solutions we standardize processes and reduce the number of interfaces
Automatic reporting
Hospitals are provided with reporting about a suppliers' stock removal data