News
|
Arvato wins E-Learning Award 2023
Arvato has won the eLearning Journal's eLearning Award in the digitalization category for its Digital Champions Program.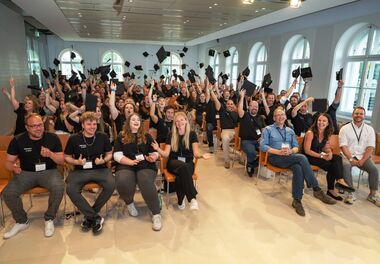 Initiated in 2019, the learning program aims to provide employees of the international supply chain and e-commerce service provider with extensive knowledge around digitization, hands-on exposure to useful tools, and a network of digital experts. The learning program consists of six modules: New Work, Cloud Fundamentals, Innovation Management, Data & AI and Future Warehouse. Participants can choose the courses according to their personal interests and professional needs.
Every year, the Award honors innovative and creative projects in the field of digital learning. In the end, current state-of-the-art projects prevailed in 84 different categories. Stefanie Rheker, Chief Human Resources Officer at Arvato, is proud of the award: "We are very pleased that the jury has recognized our innovative project with the eLearning Award. It is both a confirmation and an incentive. For the success of any digitization project, it is essential to pick up people and raise their awareness of this topic. With our Digital Champions Program, we offer our employees the opportunity to delve into topics that actually help them in their daily working lives on an individual basis and thus motivate them to learn independently."

With success, because the third cohort recently successfully completed the program, and planning for the next group is already underway. It takes place exclusively digitally and is aimed not only at employees from commercial professions and with management activities from junior level upwards, but also at employees from operational areas. 200 people can take part in each cohort, with incoming applications significantly outstripping available places. "A completion rate of 83 percent and an average participation rate of 80 percent in the individual sessions show us that our program has aroused the interest of our employees," says Stefanie Rheker.