News
|
Opening of modern logistics center with DOUGLAS
Arvato and DOUGLAS, Europe's leading omnichannel provider for beauty, have jointly officially opened their new location in Hamm.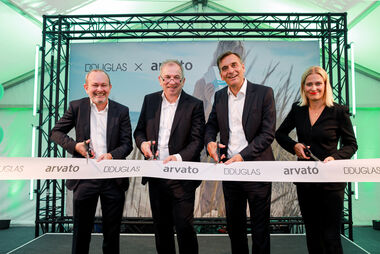 The new distribution center with its state-of-the-art automation technology is a lighthouse project for both companies and marks the next step in their long-standing partnership. With a total area of 38,000 square meters, Arvato will handle all logistics for store deliveries and DOUGLAS' fast-growing online business in the DACH region – including returns management. The new logistics center will create up to 400 jobs in Hamm.
After commissioning the logistics center in August last year, Arvato initially began processing orders for online customers in Germany, Austria and Switzerland. In the meantime, all DOUGLAS stores in the DACH region are also supplied from Hamm.
With the new logistics center, Arvato has tripled warehouse capacity for Europe's leading omnichannel beauty provider, whose online sales have grown by an average of more than 20 percent per year over the past five years. "We have created a forward-looking concept in Hamm that optimally supports not only growth but also the DOUGLAS 'Let it Bloom' strategy," says Julia Börs, President Consumer Products at Arvato, underlining the importance of the project.
"Efficient logistics is one of the most important pillars for any omnichannel retailer. With the new and state-of-the-art logistics center in Hamm, we have reached a decisive milestone in linking store business and online store in the DACH region even more closely – also and especially to the benefit of our customers and suppliers," says Sander van der Laan, CEO of the DOUGLAS Group.
Arvato's digitization strategy perfectly supports DOUGLAS' cross-channel business model. The supply chain and e-commerce service provider has specifically designed the distribution center in Hamm as an omnichannel warehouse with high-performance automation technology and a cloud-based IT solution, in which DOUGLAS' various sales channels and country orders are brought together.
At the heart of the omnichannel solution is a state-of-the-art shuttle system from Austrian supplier KNAPP, with whom Arvato has been working for many years. The system of the latest 2D generation (OSR Shuttle Evo) has more than 130,000 storage locations, 32 ergonomic workstations and a storage and retrieval capacity of 12,500 totes per hour. At the same time, the more than 500 shuttles can not only move within an aisle, but also change aisles if necessary, thus reaching all items on one level. This increases flexibility enormously and reduces the effort required for conveyor technology outside the shuttles. The shuttle is part of a sophisticated overall system which, with the connected automatic carton and tote erectors, three cross-belt sorters, pick-by-light picking stations for samples and large-volume items, and automatic carton sealing machines, interlocks perfectly.
Subsequent sorting then takes place in the goods issue and dispatch departments. Julia Börs: "In total, we have invested more than 70 million euros in state-of-the-art automation technologies at the Hamm site. This is the largest investment in a single site to date."
In full operation, up to 114,000 packages per day can be shipped from Hamm. Fast delivery to customers in the DACH region is supported by the very good location of the distribution center in the eastern Ruhr region and the connection to several highways. "The location is also fundamentally equipped for further growth, as together with DOUGLAS we already took into account possible capacity expansions in various functional areas during the design phase," explains Julia Börs.
About DOUGLAS:

DOUGLAS is Europe's leading omnichannel provider for beauty. We inspire our customers to live their individual beauty with a unique range of products in our online stores, partner program and approximately 1,840 stores. The expansion of our successful omnichannel positioning is at the heart of our strategy, in the context of which we are consistently developing the customer experience. In fiscal year 2021/22, DOUGLAS generated sales of 3.65 billion euros with a focus on fragrance, makeup, skin care, hair care, and health and accessories.