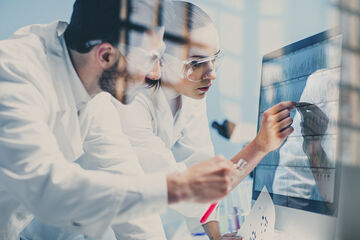 Client Success Story
|
Otsuka
Fully integrated european Order-To-Cash complete solution We support the global pharmaceutical company Otsuka with our solution in its transformation from a central warehouse to several strategically networked sites in Europe.
The initial situation
Otsuka is a pharmaceutical manufacturer founded in Japan in 1964. Their portfolio includes drugs for the treatment of central nervous system disorders, kidney diseases, lymphatic system diseases, and blood disorders. Otsuka was looking for a strategic logistics partner to cover and develop all order-to-cash processes for the EMEA region.
The objective: to shift from a centralized distribution to a decentralized "key market" model by establishing a distribution concept in several European countries. Otsuka's ambition was to increase proximity to the market and its customers in order to fully comply with local market regulations and requirements. They also wanted to improve customer service, reduce transport costs, and ensure faster delivery times.
The design of a European Distribution network is a fine balance between having a consistent approach across all markets for core activities like customer services, quality standards etc. and staying close to the customer at each market level and minimizing costs and delivery times. The hub and spoke network developed in partnership with Arvato has supported us ably on this journey. No doubt we will continue to refine the model in collaboration with Arvato as our business grows and evolves.
Cheryl Dhillon Senior Vice President Supply Chain and Corporate Project Management, Otsuka Pharmaceutical Europe Ltd
Our solution for success
In 2013, we took over logistics for Otsuka - initially centrally from the distribution center in Harsewinkel, Germany, until 2016. We opened two additional warehouse locations in Italy and Spain and expanded our existing distribution center near Paris, France. This allowed Otsuka to have scalable processes across national borders and to serve important strategic markets from within the country.
We also entered the Swiss market by implementing a fully integrated solution with our strategic logistics partner Voigt in Niederbipp. Since 2017, we have handled temperature-controlled distribution for Otsuka to all European countries and, since 2019, locally from our warehouse in Birmingham, UK.
Our international sites are linked to our uniform, European quality management system and to our fully integrated SAP-based IT landscape. This enables us to offer our clients uniform processes, data security and a high level of transparency across national borders.
The seamless integration of several decentralized warehouses allows Otsuka to flexibly access different distribution models and requirements for each market. Different customer groups are supplied depending on the market such as wholesalers, hospitals or pharmacies. The local proximity to the patient enables Otsuka to achieve greater security of supply. The legal and regulatory requirements of the respective country are also optimally met in this way.
By using a single service provider to handle all processes, Otsuka has been able to significantly reduce its lead times and transportation costs. They also reduced costs through prior services such as feeding temperature-controlled shipments into local transportation networks via linehaul solutions.
The facts at a glance
Supplying the European
pharmaceutical market
From our locations in Germany, Italy, Spain, France, Great Britain and Switzerland, we supply hospitals, pharmacies, physicians and wholesalers.
Guaranteed delivery
within 24 hours
The strategic network at various locations in Europe enables the prescribed delivery time within 24 hours.
SAP-based IT system plus
QA system for all locations
We offer serialization solutions within the framework of the Falsified Medicines Directive (FMD) including IT support.