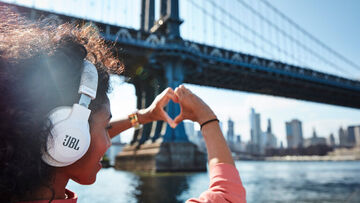 Client Success Story
|
HARMAN
New european distribution center for more growth and omnichannel fulfillment In 2019, we took over the operation of the European distribution center for lifestyle audio products. The goal: Take B2B and B2C fulfillment to the next level and enable further growth.
The initial situation
In recent years, sales of HARMAN's lifestyle division have increased more than sixfold. This enormous growth has presented the leading audio technology provider with new logistical challenges. Increasing volumes and customer requirements demanded comprehensive supply chain optimizations. The company was therefore looking for a data and process-driven warehouse solution that was robust, scalable and automated.
Arvato convinced us with its in-depth automation and process expertise. In addition, they were willing to invest in future-proof automation technology that supports our fast volume growth and increasing client demands. Scalability and flexibility of our fulfillment partner are critical to our success - and we found that with Arvato.
Henri Colijn Senior Director Operations EMEA, Harman International
Our solution for success
It all started with analysis. - we used complex process simulations to determine the perfect business case. Then, we created the required storage capacities at our site in Gennep, the Netherlands, and implemented client-specific storage solutions. We did all this without impacting the ongoing business, and it only took us four months.
With the help of our fulfillment solution, we support HARMAN in achieving their future growth targets. The high scalability of our solution favors the development of new markets. Daily process flows can now be displayed transparently, and order peaks can be handled flexibly. Regular reviews of the engineering processes ensure that HARMAN can invest in further automation technology at an early stage. From Gennep, we serve the high-volume B2B business for retailers as well as the growing B2C business within Europe.
The facts at a glance
30,000 SQUARE METERS LOGISTICS AREA
All fulfillment services for HARMAN are provided at our Gennep site in the Netherlands.
28,000 pallets storage capacity
We store the products for the European B2B business for retailers and for the B2C online orders from end customers.
Implementation in only 4 months
After the analysis phase, we created the necessary storage capacities and implemented the logistics solution in only four months.